Free UK Shipping for Orders Above £50!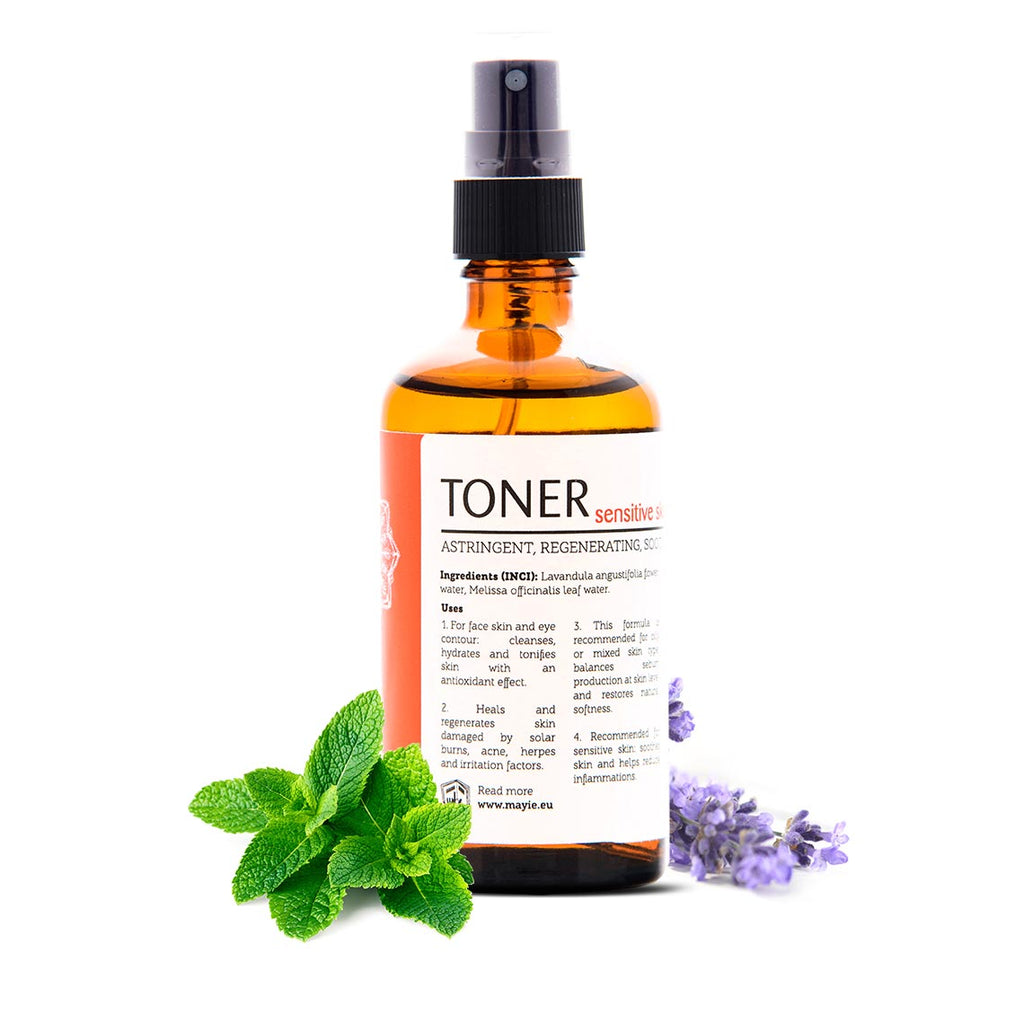 Mayie Sensitive Skin Toner is a 100% natural product. It is a water base solution developed from Mayie natural hydrosols extracted from organically grown plants. 
Mayie Sensitive Skin Toner's active constituents are providing antibacterial, antioxidant, astringent and tonic benefits for face and eye skin. It yields great results for sensitive and combination skin.
| | |
| --- | --- |
| Skin Type | Action |
|  Dry |  Hydration |
|  Normal |  Moisturizing |
|  Combination |  Nourishing |
|  Oily |  Regenerating |
|  Sensitive |  Soothing |
|  Aging |  Purifying |
| |  Mattifying |
| |  Brightening |
| |  Whitening |
| |  Anti-aging |
| |  Anti-wrinkle |

Uses:
Hydrates face and eye skin.

For any age, with great results for sensitive and combination skin.

Face skin and eye contour: gently cleanses, soothes and firms skin.

Gently cleanses face skin and helps removing dirt from pores.
It balances the sebum production while slightly reducing pore size.
Good results for acne, irritations and sunburns.
How to use: apply it in the morning and in the evening, also when you feel it is necessary, by spraying on your skin or by using a cotton pad. No need to rinse.
Mayie Sensitive Skin Toner does not create physical addiction or skin sensitization. It is a great product, recommended for every day cleansing and caring of face skin, body skin and eye contour.
How to store: in order to benefit a long time from Mayie Sensitive Skin Toner, we recommend keeping the container tightly closed while not in use. Avoid direct sunlight and keep dry, at room temperature.
Smell: herbal, honey-like, persistent
Package Type: dark glass bottle and mist sprayer cap
Net Volume: 100ml
Period After Opening: 6 months
Mayie Routine is designed to provide your skin a complete, 100% natural, non-sensitizing and healthy daily care. Whether you use the full routine or choose to use part of it, we are making sure your skincare needs are covered properly.
This product covers the following steps from Mayie Routine:
Morning Routine
Evening Routine

1 

 Water Wash

1 

 Oil Cleanser

2 

 Toner

1 

 Foam Cleanser

3 

 Essence

1 

 Gentle Cleanser

3 

 Serum

2 

 Exfoliate

4 

 Eye Care

3 

 Toner

5 

 Moisturizer

4 

 Essence

6 

 Sunscreen

4 

 Serum

5 

 Face Mask

6 

 Eye Care

7 

 Moisturizer
Natural
Biocompatibility
We believe in the fact that our bodies and our skin adapted to what nature has provided us with for the last few thousands of years. Since not all natural ingredients are beneficial to our skin, our research has a holistic approach where we take into account the historical use of plants, the extraction methods, the clinical results and the long-term skin sensitization risk. We are proud to grade our ingredients as natural and biocompatible.
Innovation
Research is the most precious ongoing activity in our lab where everyone in our company is involved. We are curious minds, always looking for new extraction methods, new ingredients, new delivery systems and new formulations by leveraging cutting edge technology. Our goal is a healthy, ageless and natural looking skin.
Sustainable
Environment
Whether it's Mayie Proprietary Farms or Mayie Network Farms, our agriculture and wild-harvest technology is fully organic, no chemicals and no overexploitation. We leverage our patented technology across all our farms, which places us a step ahead of international organic regulations. We are proud to know that our great-grandchildren will be able to cultivate our present land, unadulterated and as healthy as it is now.
Cruelty Free
We respect nature and we respect the integrity of all animal species. Our lab testing technology allows us to avoid any type of animal testing and we obtain the best results. Moreover, we discourage the use of any animal exploitation during agricultural activities across Mayie Farm Network.